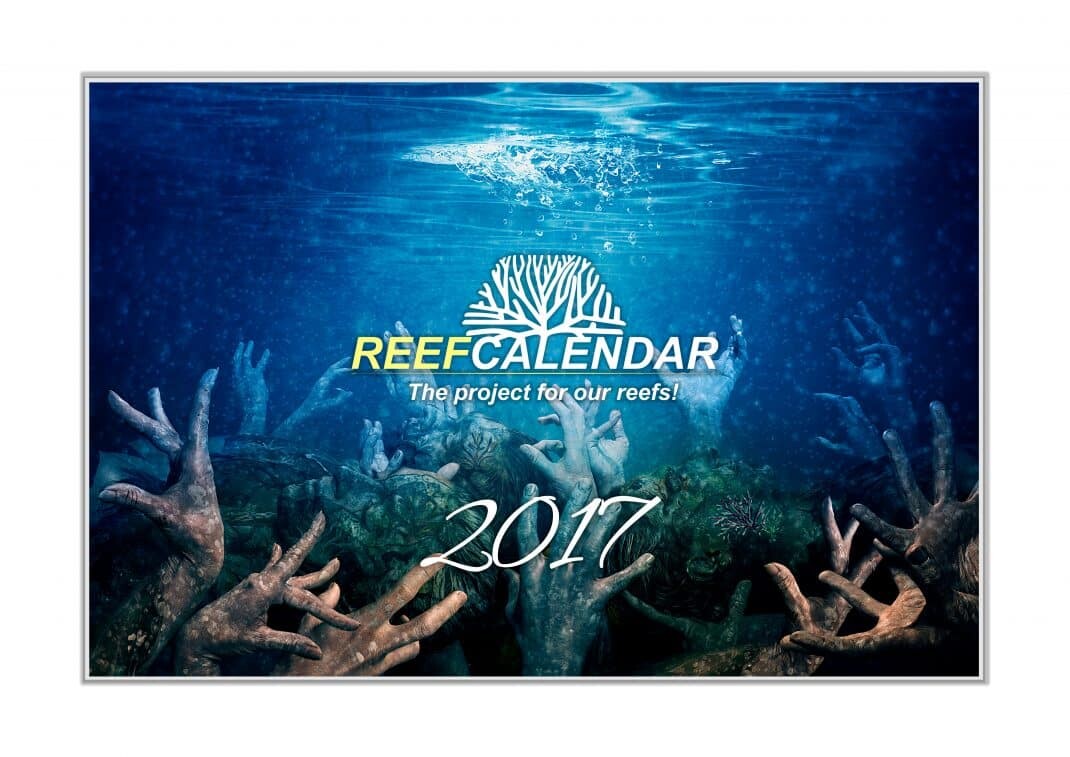 The #Reefcalendar | The extraordinary project with world record
What do we leave to our children and children when we think of the world's oceans? A sad picture. Oceans and above all huge coral reefs are in danger. Who now believes: Oh, that is only a small part, that is wrong. The entire reefs make up a quarter of the oceans. More than that are reefs an important habitat for numerous animals, which are located here in one of the most diverse natural cycles. If the reef dies due to human disturbances or the warming of the water, Picasso fish and micro-organisms such as polyps also lose their habitat.
Coral reefs | A world is perishing
With these tiny coral polyps the history of the coral reef began several thousand years ago. They are responsible for these underwater miracles and usually only transfer divers into quiet ecstasy. And if anyone who knows that these are natural works of art in thousands of years of work will have learned something at the end of the day: if we lose the reefs, we lose a large habitat, which also directly and indirectly affects the people living in the country. Because a reef takes important functions within the sea. For example, the reefs in front of islands protect the beaches from erosion and land loss. Storm damage is also caught by reefs. Not least, there are countless animals that are food and protein sources for more than 800 million people. Last but not least, every holidaymaker in Asia and Africa is happy when fresh seafood is served on the plate.
Unfortunately, a small dog baby gets more attention today than a silent reef under the water surface.
Yes, that sounds mean – should it. For we are struck by the acute danger of living creatures who have just as deserved to be saved as a Spanish street dog. For even these animals can not defend themselves, have no voice.
Let us give the creatures in the sea a voice!
The threat of the reefs has long assumed gigantic proportions. Anyone who has been able to see the Red Sea 20 or 30 years ago in all its diversity will only be able to see sad corals and few fish. Even during snorkeling, it was possible only a few years ago to discover scorpion fish and moraines in the reefs. Today, this fascinating sight is almost impossible. It is important to act today, so that the world-wide reefs are maintained.
The silence is now over
The Austrian natural project "Reefcalendar" produces an annual calendar. With beautiful shots of the underwater photographer Martin Aigner he and Michael Szirota as a passionate diver once created this project. We asked him about the trigger for such an elaborate project:
Michael Szirota: Both of us are enthusiastic divers and see on every vacation how much the underwater world suffers from the consequences of humanity. Profit and stupidity are destroying the marine ecosystem and thus not only endanger the underwater creatures, but also humans. We thought of starting an art project. Martin's photography is different, he expresses not only the normal picture in his pictures, he works with underwater models, is a lot of effort on the set, so his pictures become something special. The cooperation is very pleasant, ideas are born and implemented together. There is no envy and we look forward to everyone who wants to participate and contribute to the Reefcalendar project.
Lifestyle4unique: We are now looking for newcomers for this year. Especially for the planned world record, you are still looking for models that are available for a unique Bodypaint picture in Vienna. Last but not least, the calendar should also be sold. In order to convince our readers, the question must be allowed:
What are the successes of the past few years?
Michael Szirota: To name successes, I am pleased to have brought almost every calendar to the man. From the revenue of the calendar we have returned something to the sea on the Maldive and built a coral reef of our own.
Die Reefscapers haben am 15.01.2017 unsere Riffkörbe auf den Malediven versenkt. Der REEFCALENDAR hat somit sein erstes Projekt erfolgreich unterstützt/ umgesetzt! (y) Unser kleines Riff kann nun heranwachsen! Wir halten euch am laufenden! DANKE an alle die an uns geglaubt und uns unterstützt haben! (y)Danke auch an unsere Partner! FliesendorfOrisAustrias Make-up SchoolHaus des Meeres ZooWiener – Alles für Er.onethirtytwo.comgeneration blueUnderwater Photo Academy Martin AignerOnline Divers#savetheearth #reef #korallen #support #reefcalendar #oceans #underwater

Posted by Reefcalendar – The project for our seas on Freitag, 3. Februar 2017
Lifestyle4unique: Respect! Such work is time-consuming and costly.
Michael: Because of our work our community is constantly growing. And, of course, we are happy about new comrades, who return less to us than the world's sea a bit of life – in the truest sense of the word. This is why success is achieved by reaching people. This year, many people travel from different countries and are partially returning large distances to support the project Reefcalendar. This shows us that we are on the right track.
These people are already participating in the Reefcalendar project: http://www.reefcalendar.org/people-arround-the-world-de/
Michael: We also regularly publish the updates from the basket of corals on the Reefscapers page.
Lifestyle4unique: Super! In this sense, we would also like to encourage our readers to participate. Come to Vienna on 19 August 2017! Help to break the world record! Be part of the cover image for the Reefcalendar 2018. Lifestyle4unique will also be there and make itself available without gage for the huge Bodypaint image.
Sign up for the participation on 19 August 2017 in Vienna directly: On the page of the Reefcalendar you will find all the information.